Recent Exhibitions
Solo Shows
2019 Alan Kluckow Fine Art - Lightfall
2016 Alan Kluckow Fine Art - Silent Spaces
Group Shows
Hidden UK, Hidden Ireland, curated by Sean Scully, Flowers Gallery, London 2022
Five Contemporary Artists, The Stapleford Granary, Cambridge 2022
Alan Kluckow Fine Art, Three artist group show with Robbie Wraith and Sally Moore 2020
Alan Kluckow Fine Art - Henley Festival 2019
Alan Kluckow Fine Art - Summer Group Exhibition 2016, 2017, 2018, 2019, 2020, 2021, 2022,
Alan Kluckow Fine Art - Winter Croup Exhibition 2016, 2017, 2019
Open Gallery, Halifax - Summer Croup Exhibition 2023

Open Exhibitions
The Royal West of England Academy Open 2016, 2018, 2020, 2023
The Royal Society of British Artists Open 2017
The Harley Biennial 2017
Museum Collections
The Chippenham Museum Permanent Collection

Artist's Statement
Although most of my work during the 1990s consisted of large scale abstract paintings, since 2012 I have been creating small intimate landscape drawings, commencing with Silent Spaces (2012/16) and the Sharpenhoe Series (2016/17) that were inspired by walks in the Chiltern Hills. These were interspersed by works of Lake Garda in northern Italy (2016) and then drawings of the Amalfi Coast and its hinterland of Tramonti and the Lattari Mountains (2017 and 2018). After that, I started looking at the English landscape once again with another Chiltern Hills series (2019), followed by Chobham Common (2020), Mermaid Pond (2021) and finally The Greensand Ridge (2022). The transient, the temporal, exposure, solitude, isolation and vulnerability have always been important underlying strands that are present, in some way or other, in all my landscape drawings. There are however two other important aspects that inform how and why I create these works. The first is the way we assess, view and think of time; both in our relationship to the past (history) and at an individual and personal level through our own remembered experiences (memory). The way in which we store and retrieve a memory of something, degrading or modifying it in the process of recall and subsequent pictorialisation in our mind's eye, is one wherein an old memory remembered is refreshed, but is also changed irrevocably. Remembering is a central part of the process of these paintings. The second is after visiting the archaeological site at Pompeii, I started to think again about the idea of 'the residual'. I wanted the later Amalfi series to have that sense of being the remains of something, not overtly, but in a subtle
reference to physical impermanence; a light filled impression on the retina, perhaps more about emotion than structure. What is left to us, after decay and the passage of time have overwritten their own effects on something we later view, influences how we make judgements about the reality of the past.These paintings are about fragments of lived experience remembered, memories recalled, and also the residual physical state of the work itself. Both the English and the Italian paintings are simply about what is visible at the moment of their completion. Everything that precedes that moment, everything that has been erased, worked over, built upon or buried during the process of a painting's creation contributes to the final work, but is unseen and may or may not be present in its end state. The final viewable surface is all that counts - the residue that is left by the act of the painting's creation. In late 2022 I started to revisit my non-figurative work of the 1990s in a new ongoing body of work titled 'Residual Trace' (2022 - ) within which 'Necropolis' is one strand. Although at first glance these new paintings appear very different from my landscape drawings, they are informed by the very same ideas. It is just the outcome that is different. Seeing one's work through the prism of elapsed time also offers new insights and developmental perspectives as well as new resolutions to old challenges. For me at least, an emerging path into future work is revealed and potential for new enquiry into those fundamental ideas that have always been important to me and underpin my art practice.

Nicholas Herbert Summer 2023
Introduction to the 'LIGHTFALL' catalogue by David Boyd Haycock
Imagine if, one day in the future, you could link a printer to your mind, and print yourself a memory. What would it look like? This, in a way, is what Nicholas Herbert has been doing for the past six or seven years: painting his memories of places. Of course, his images look very different from how yours or mine might look. For a start, he is a highly accomplished artist and designer. His sight, mind and memory have been honed through years of experience to observe and record and retain. What he is doing in these pictures is remembering, and then reproducing – or, perhaps, re-experiencing and rediscovering. He is seeking for what remains within both the place itself, and the recalled vision in his mind of what he has seen and felt. For as he admits, even his trained eye is fallible. These then are not – nor are they meant to be – perfect copies of what he saw. These 'views' have not been painted en plein air. Herbert has visited, walked, seen, photographed, recorded in his mind's eye and has memorized these places. And, returning home, he has recalled them and drawn them. The place is vital – the Chiltern Hills of middle England, Italy's Amalfi coast – because not all places 'work' for him. Yet these two distinctive places both have what he calls the 'atmospherics' he's seeking to recapture in his work – the way the land has formed, its surface layering, sedimentation, accretion. He uses words like 'transience', 'time', 'vulnerability', 'solitude' and 'the residual' to describe and understand them. They are landscapes that are both primitive and timeless. 'Erased and incomplete' is a phrase of his that catches my attention, like the frescoes on the preserved yet crumbling walls of Pompeii that he saw during his Amalfi journey, and which went on to influence his subsequent work. I find his paintings – or drawings, we can't quite decide
which they might be – intensely exciting. They are both mysterious and beautiful. They remind me of Turner's late watercolours, in which his landscape moves towards almost complete abstraction. But Herbert advances on Turner (who would never have thought of his studies as we now see them, as completed works in their own right). At once immediately captivating, they also warrant long contemplation, changing with the day, the light, and repeated viewing. I've always been amused by George VI's reputed remark to John Piper, on seeing his war-time watercolours of Windsor Castle: 'You seem to have very bad luck with your weather, Mr. Piper.' Herbert too is an artist who seems to be 'unlucky' with the weather. Yet both are artists of the English landscape, tuned to its strange proclivities, its misty drizzle, the half-light and ever-changing tones of a British afternoon, a dusk or a dawn, 'seen through a glass, darkly'. So I wondered how he might fare in the bright lights of Italy. Samuel Palmer's early, magical, mystical English work, it is largely agreed, was spoilt by his long sojourn south of the Alps. This is not true of Herbert's experience. The views of Italy – created back home in England – are clearly different from those inspired by his Chiltern walks. But there is something similar to them, too. These two distinct experiences, the two locations separated by hundreds of miles, feed off each other. Separate, yet distinct, linked by his mind's memory, and that strange fall of light that so suffuses these works.

David Boyd Haycock, Oxford, September 2019
David Boyd Haycock is a freelance art historian, curator and lecturer. He is the author of a number of books, including A Crisis of Brilliance: Five Young British Artists and the Great War (2009).
About the work
'Silent Spaces' is a series of mixed media landscapes inspired by the chalk uplands, wooded hillsides and secluded valleys of the Chiltern Hills. "I use my physical and emotional experiences of this area to capture within these works the essence of the landscape, its enduring mass, transient atmospherics and ephemeral qualities of light, as well as to express my own meditative thoughts, personal memories and those subconscious responses that I inevitably take from having been there. Integral to these works are ideas of the ancient, the mythic, the residual, permanence versus impermanence, decay and renaissance. Solitude and exposure are intrinsic conceptual strands within many pieces. Creating these landscapes is instinctive and intuitive, a direct, visceral engagement. Through a process of mark-making, sedimentation of material, textural surface layering and modulated monochromes, I seek to interpret the fundamentals of the topography, in particular revealing its underlying, elemental nature:
ancient, primitive, immoveable, timeless, unforgiving. I deliberately use modest materials; a fusion of graphite, pencil, acrylics, gouache, chalk, soft pastel and soluble crayon on paper. My colour palette consists mostly of organic, neutral, desaturated and 'unpretty' pigments, which consciously de-romanticise the finished pieces. When I work materials into the paper, the surface sometimes degrades and scuffs, adding to the texture and immediacy of the work. I like the feeling of the unprecious and the worn. There is an almost casual rawness in the fact that the paper has to survive the creative process. Sometimes it doesn't. If it does, then, like the landscape, it carries a little of the physical history of its making within itself. I hope these predominantly small, intimate and self-contained landscape compositions invite contemplation and reward prolonged examination and deeper engagement."

Nicholas Herbert April 2016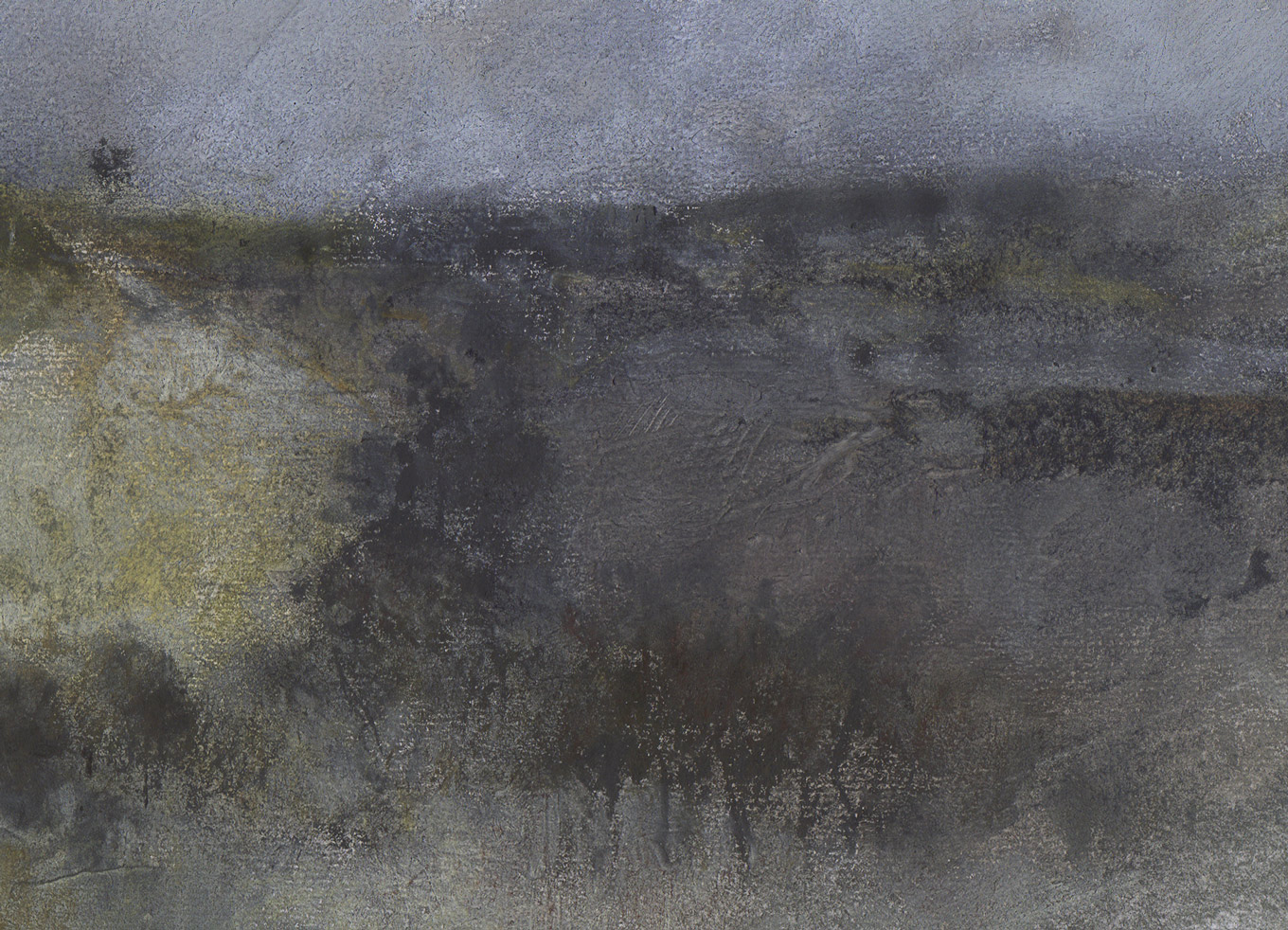 About the artist
Nicholas Herbert (b.1955) is a mixed media artist and designer currently living and working in St Albans, England. He is represented by Alan Kluckow Fine Art. From 1974-1978, he studied at the Central School of Art & Design, London, and at the Bath Academy of Art & Design, where he graduated with a first class honours degree. During his professional career he has worked across a variety of creative and artistic disciplines, leading to valuable cross-fertilisation and interaction from one area of artistic activity to another. In 1995, he moved from London to the southern Lakes to pursue an exclusively fine art practice. During this time he made both large-scale paintings on canvas and small landscapes, showing at many galleries in the North of England and participating in a number of Opens. These included the University Gallery Newcastle upon Tyne, Middlesbrough Municipal Art Gallery, Castlegate House Gallery, the Coach House Gallery at Brantwood House and the Lyth Gallery. In 1997, he was commissioned to make two series of large works in the Channel Islands. Many of his pieces, including paintings, drawings, and hand-made books, are held in private collections in the UK and abroad.
Since 2012 he has been developing a new body of landscape works entitled 'Silent Spaces'. This is a series of small intimate mixed media landscapes on paper primarily informed by his personal experience of the chalk uplands of the Chiltern Hills and combining his interests in the natural landscape, visual mark-making and history.
Nicholas had a solo exhibition of twenty-six mixed media landscapes from this new body of work 'Silent Spaces' at Alan Kluckow Fine Art during April and May 2016 and 'Landscape L763, The Chiltern Hills' was selected for exhibition at the Royal West of England Academy Open 2016. A work from his 2016 Lake Garda Series L917 was shown at the Royal Society of British Artists 300th Open exhibition at the Mall Galleries, London, during March and April 2017. Landscape 'L1025, Small Wood Surrounded by Farmland' was selected for The Harley Biennial in the summer of 2017 and also for The Royal West of England Open 2018, as was Landscape 'L965 Sharpenhoe Series, Cornfield Below the Sundon Hills Escarpment, The Chiltern Hills'. Nicholas showed four paintings at the Henley Festival 2019 with Alan Kluckow Fine Art. 'Lighfall' November to December 2019, was his second solo show at Alan Kluckow Fine Art and consisted of twenty-six new English and Italian landscape paintings. Six new paintings in the Chobham Common Series (made in 2020) were shown as part of a three artist show in Autumn 2020 at Alan Kluckow Fine Art. 'L1206, Chobham Common, Winter' was selected for The Royal West of England Open 2020. His paintings are regularly shown at Alan Kluckow Fine Art's summer and winter exhibitions of gallery artists. The gallery also holds a small stock of recent pieces, viewable on request. info@kluckow.com for details and sales.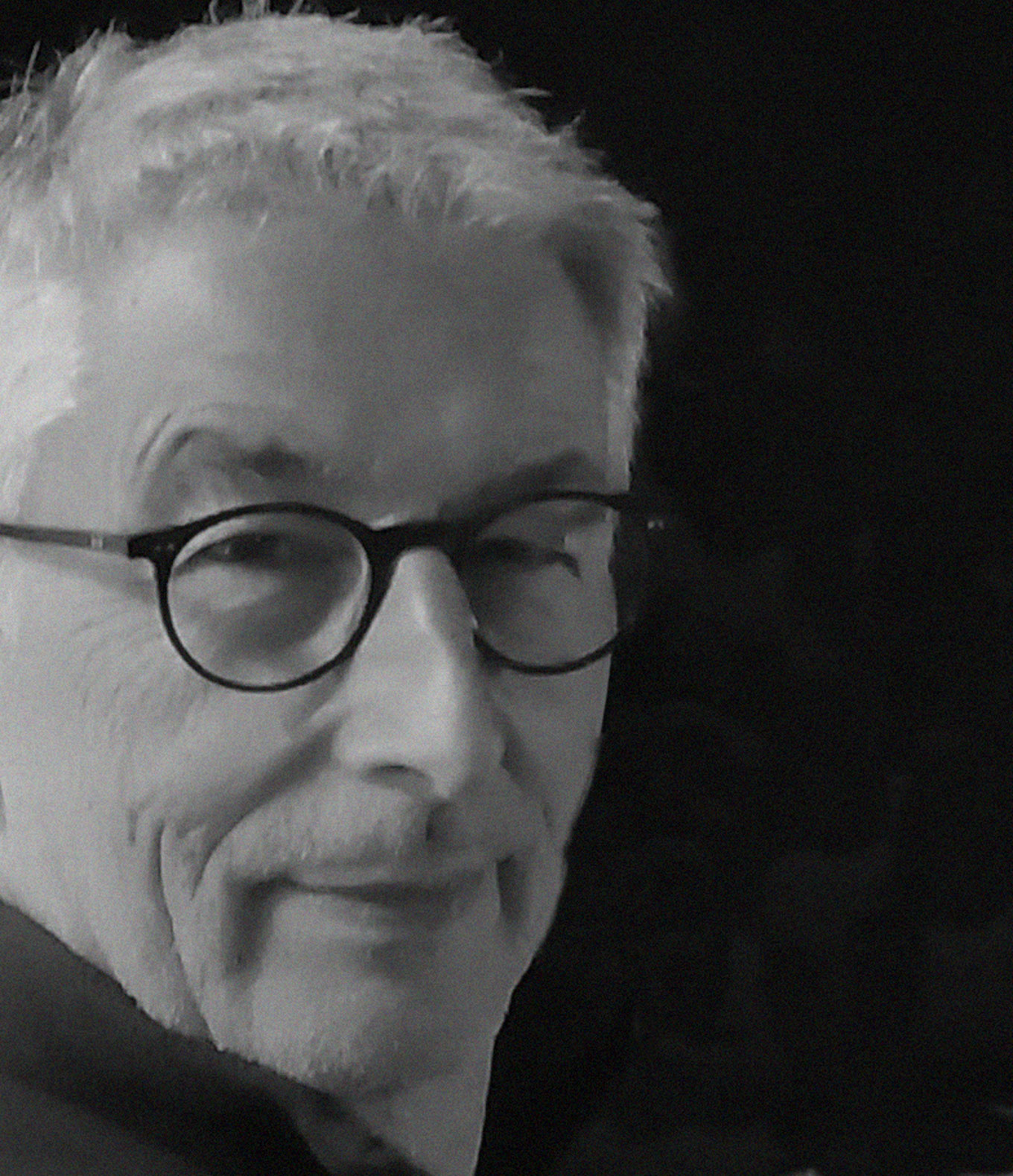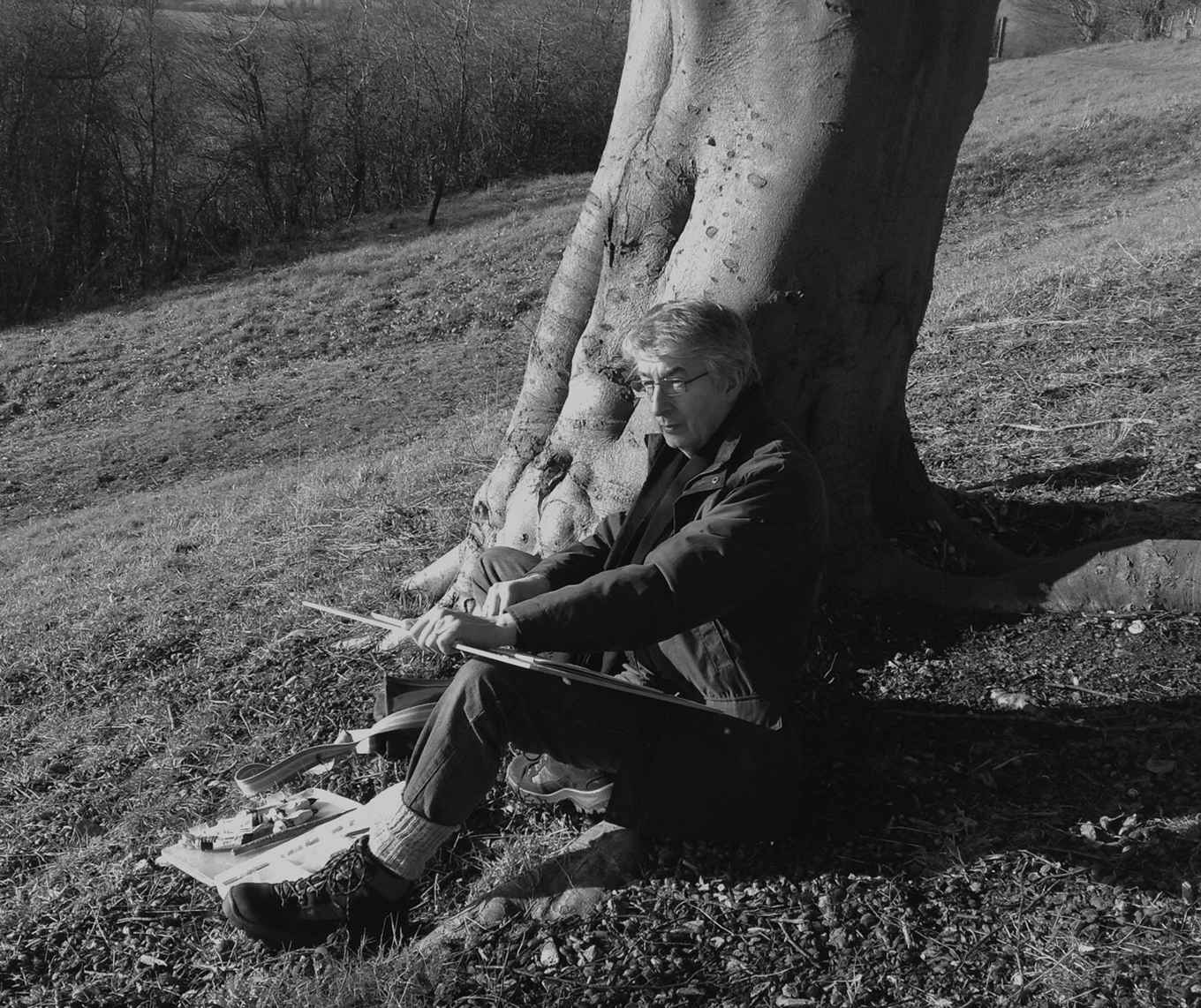 Materials
For the current drawing series, I have deliberately chosen a rather pared back range of materials and colours. With this highly edited palette I can achieve all I want to do in terms of mark-making, layering, tonality, texture, coloration and structural delineation. The materials work well together. Combined they have an almost limitless expressive capability. The colours, organic, neutral, subtle, desaturated and un-pretty help to de-romanticise the drawings. I work on Italian-made white 200gm (94Ilb) ecological artist's paper by Fabriano. It is not too white and has a reasonable tooth. When I work materials into the paper, the surface sometimes degrades and scuffs, adding to the texture and immediacy of the work. I like the feeling of the unprecious and the worn, of rough edges. There is an almost casual rawness in the fact that the paper has to survive the drawing process.
Here are some of the materials I use. Six artists acrylic paint colours: Davy's Gray, Payne's Gray, Raw Sienna, Burnt Sienna, Mixing White and Zinc White. Twelve different greys from the Caran d'Ache Neocolor2 crayon range, ranging from warm earthiness to dark stormy blue-black and steel. These are water soluble and have a special feel on the paper. I also use Permanent White gouache, a Grafstone 6B graphite pencil, plus 9B and 8B lead pencils. I have a few coloured pencils, including a parchment colour, a pale brown that is almost an ochre, a lincoln green and one called green earth, all by Derwent. Then I have some sticks of white chalk and my favourite, an eraser. If I want to scumble over the surface, I use old worn brushes, my finger or anything else that is useful at the time. If I want to seal a layer to preserve it from future workings, then I carefully use a large, soft, flat brush so I don't disturb the surface.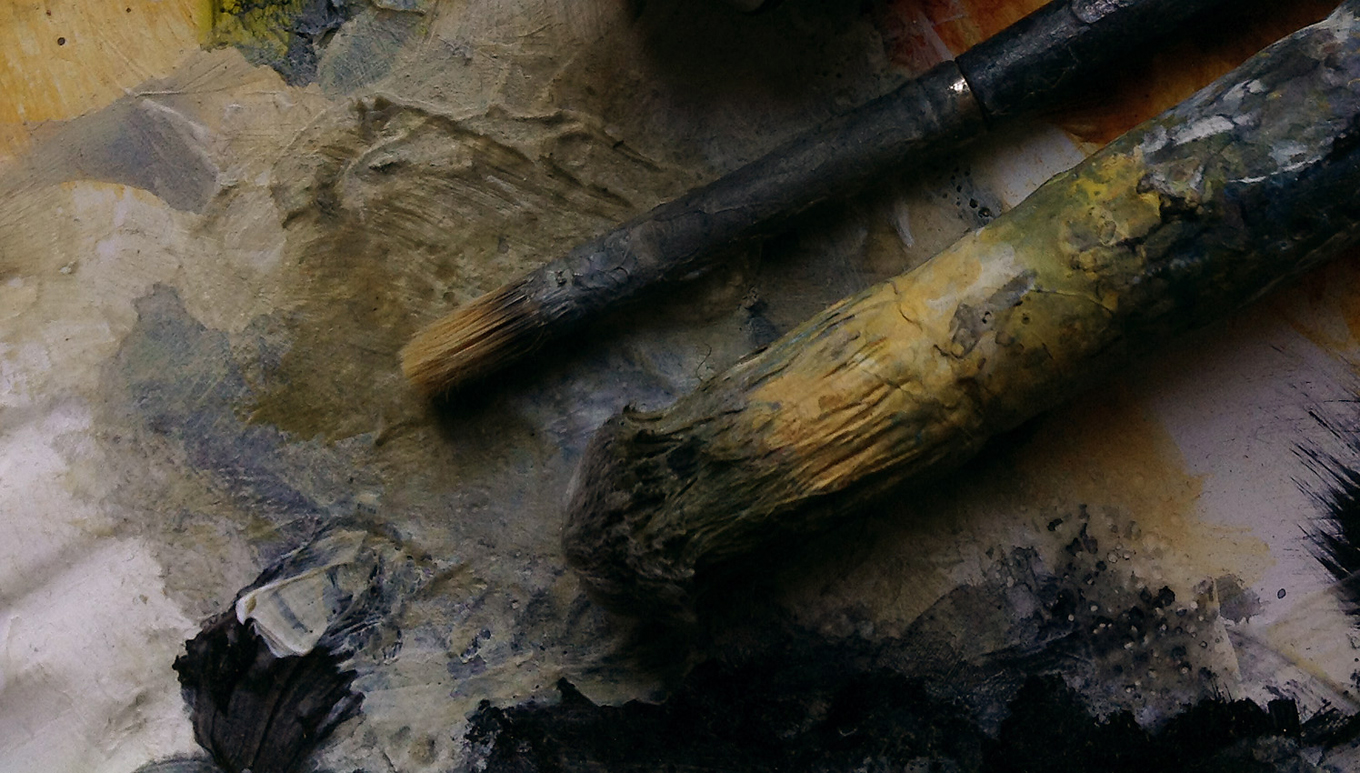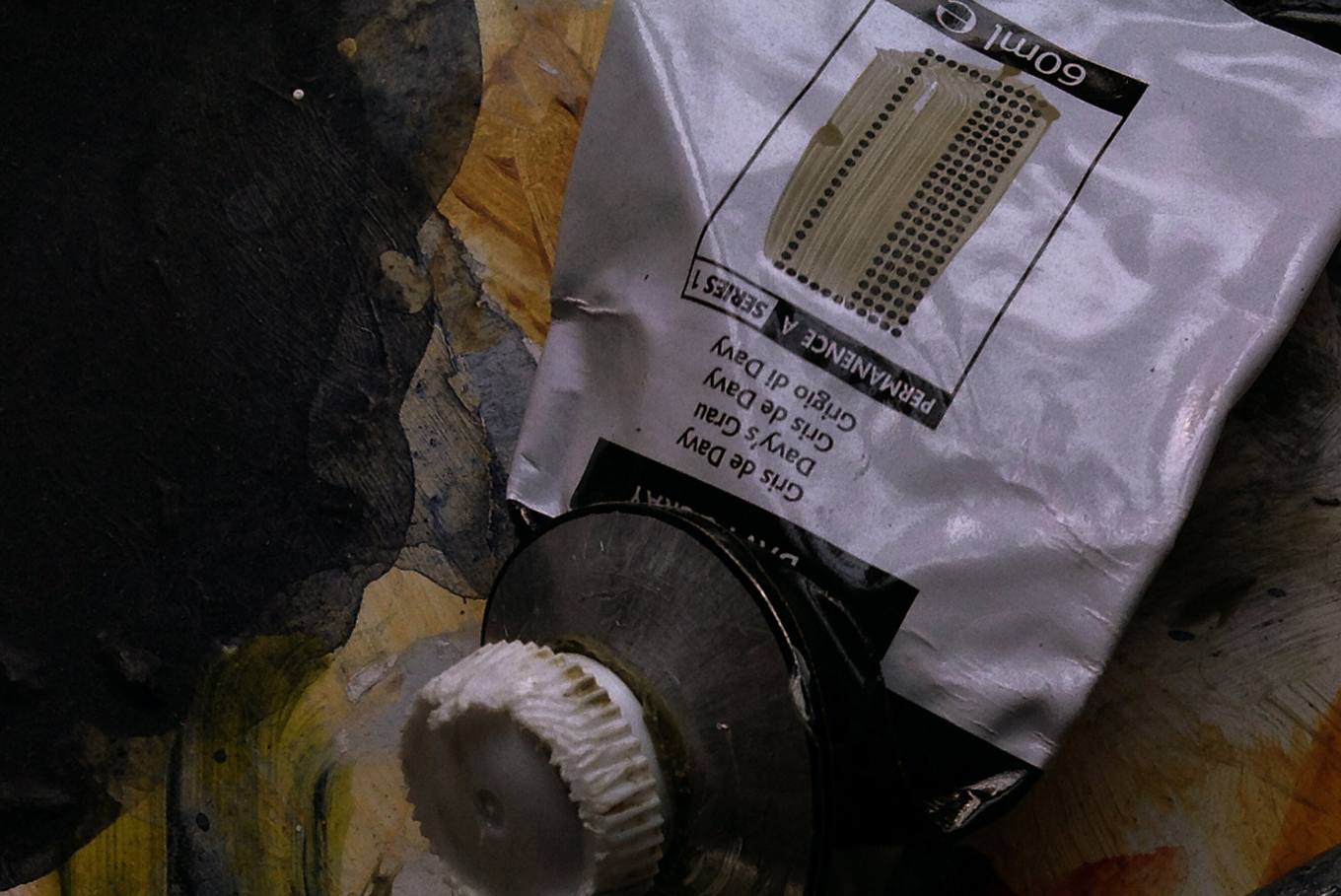 About the Chiltern Hills
Little more than thirty miles North of London, the landscape of the Chiltern Hills is one of the finest in England. Rolling chalk uplands, densely wooded hills, secluded valleys, dry grasslands, undulating downs and steep escarpments stretch in a northeast to southwest diagonal for forty-seven miles across four English counties: Hertfordshire, Bedfordshire, Buckinghamshire and Oxfordshire. The northeasterly boundary lies just to the West of the Hertfordshire town of Hitchin, while the most southwesterly extent is more decisively bounded by the arc of the River Thames in South Oxfordshire, known as the Goring Gap. The northern edge drops down steeply in a classic escarpment slope. This chalk scarp has been sculpted by the action of water long ago and long gone, leaving behind distinctive dry valleys. The plateau behind declines gently to the South. In total, the Chilterns cover three hundred and twenty-two square miles. The highest point is 876 feet above sea level at Haddington Hill. The oldest rocks in the Chilterns and surrounding areas were deposited as marine sediments about one hundred million years ago; the youngest about two million. Subsequent tectonic forces tilted these deposits and brought them to the surface, where weathering and erosion, mostly by glacial meltwater during the Ice Age, has resulted in today's soft, hilly terrain. Ivinghoe Beacon shows where the approximate southern edge of the ice sheet of the last glacial period would have reached. The relatively hard chalk deposits, being more resistant to erosion, eventually formed the elevated ridges and uplands. A characteristic feature found in the Chiltern Hills is the presence of chalk streams; important habitats for wildlife and some of our most rarely seen flora. Found only in northwestern Europe, more than three-quarters of these unique habitats are found in England. Their future preservation is an important conservation project. Ancient beech woods are a predominant part of the ecology of the Chiltern Hills wherever the chalk has been overlayed by softer deposits of clay. Here one finds the most extensive area of native beech woodland in England. In spring the woodland floors are covered by a continuous carpet of bluebells, a slow process of expansion that takes hundreds of years and a tell-tale sign of a woodland's age. Beech woods are quite often interspersed with other species of tree, with ash, white beam, cherry and oak. A network of sunken lanes are found throughout the plateau and along the valley bottoms. Known locally as 'hollow ways', These hidden lanes give the Chiltern Hills its sense of place; sheltered, veiled, protected and secluded. On the exposed escarpments, remnants of open chalk downland support scrub, grassland and rough pasture, rich in calcareous plants such as horseshoe vetch, purple milk vetch, field fleawort, pasque flower and fly orchid.
The land encompassed by the Chiltern Hills has been settled and worked since prehistoric times. Humanity has played an important role in the evolution of this ancient landscape from the Neolithic onwards. The area is rich in archaeological sites. Mesolithic camps, Iron Age forts, Early Bronze Age barrows and field systems, Later Bronze Age hill forts, various pits, quarries, tumuli, earthworks, ditches and sarsens all bear witness to the earliest settlers and their societies. Residual traces of the past are to be found everywhere. Prehistoric, Roman, Medieval and Post Medieval sites have been documented throughout the Chiltern Hills. The earliest evidence of human activity comes from Caddington, where extensive flint working sites have been discovered dating from the early Palaeolithic (125,00 - 70,000 BC). Upon the escarpment ridges, travellers have walked the network of braided footpaths and greenways that run along them for more than five millennia. Initially, these exposed high-level tracks would have been informal and ill-defined, with many subsidiary paths diverging and coming together. Their precise routes varied, dependant on the season and weather conditions. They link numerous archaeological sites and settlements. The Enclosure Acts of 1750 meant that these ancient ways finally became more permanent and eventually, their routes constricted, better defined. One of the most mythic of all trackways, the Ridgeway, begins on Ivinghoe Beacon, seven hundred and fifty-seven feet above sea level. From the summit of the Beacon, the Ridgeway passes westwards along the Chiltern Hills and then traverses the North Wessex Downs before finally ending ninety miles away at Avebury and Overton Hill in Wiltshire. Eastwards from the Beacon, the Ridgeway connects with another well known long distance path, the Icknield Way, that runs deep into East Anglia via Cambridgeshire, Suffolk and Norfolk. Archaeological evidence from the Iron Age (750 BC - 43 AD) confirms its growing importance as a line of communication. In 1973 the Ridgeway became a designated National Trail and is a public right of way. Modern archaeological theory suggests that as the majority of early settlements were in the river valleys, the rivers themselves would also have provided our ancestors with natural routes through the landscape between settlements, but the escarpment paths would have offered several advantages to travellers making journeys over longer distances. On the 16th December 1965, just over 300 square miles of the Chiltern Hills were designated as an Area of Outstanding Natural Beauty (AONB), preserving by law its distinctive landscape and biodiversity for future generations.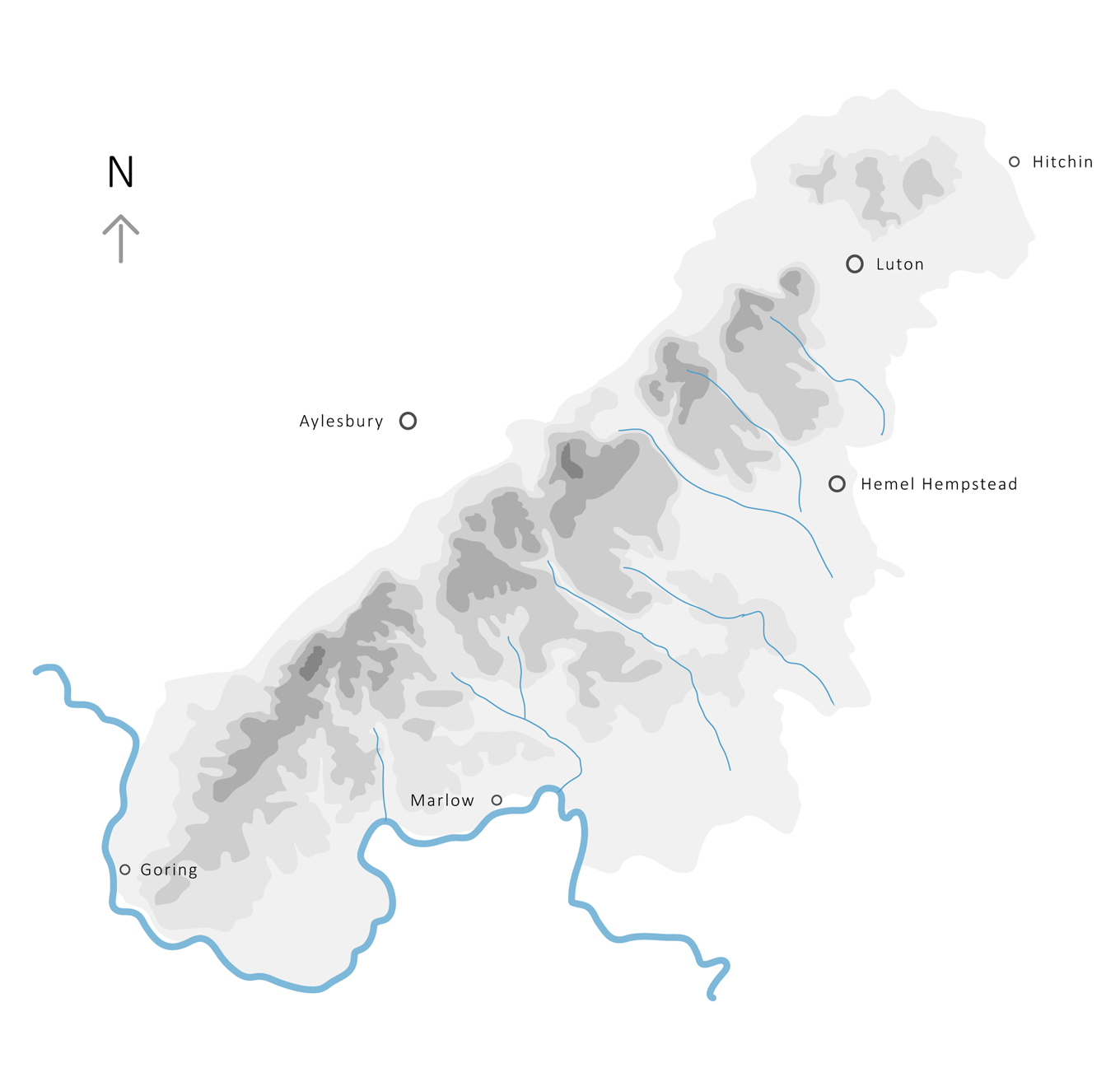 info@nicholasherbert-drawings.co.uk | All rights reserved ©2023